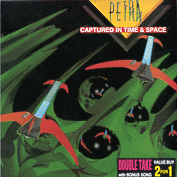 Captured in Time & Space NOW AVAILABLE On DVD!
662 total confirmed signatures
on the petition!
On three days in November, 1985, Petra history was made when the Beat the System tour was recorded for posterity. Knoxville, Tennessee; Greenville, South Carolina; and Columbia, South Carolina were the lucky cities to host the filming of Captured in Time & Space, Petra's only full-length concert video until 2005, and the first full-length Christian concert I know of to have been released on video. The
performance features Greg X. Volz on his last tour with Petra, and contains electrifying performances of most of the material from Beat the System along with some of the other great songs from before that time. Sadly, the video had been out of print now for quite some time... UNTIL NOW! For decades the dedicated fan has had to settle for a CD copy of the event, or even better, a cassette or album copy (oddly enough, the CD leaves out some of the material on the other versions), or pay an outrageous price on eBay. But in June of 2006, Bob Hartman himself made the necessary arrangements to press copies of a DVD copy of a very clean VHS copy of the video. Visit http://www.petramerchandise.com/ to buy the DVD for only $14.95!
---
Site Map
return home