News
RSS Receive this content via RSS - More RSS Feeds
---
July 31, 2013
New Petra Compilation July 30 - with a brand new song!
---
The headline says it all... 40th Anniversary by Petra will release at the end of July. It contains 26 of Petra's most-loved songs, plus a brand new track called "Holy Is Your Name". More information at this link, or order it at ChristianBook.com with this link!

(There is also a digital-only deluxe version which contains ten additional Petra favorites!)
---
December 3, 2012
Petra (with John Schlitt) touring with Asia, ELO, Genesis?
---
Sort of! In 2013, Petra featuring John Schlitt, Bob Hartman, Greg Bailey and Cristian Borneo will be on tour with former members of those three bands on "The Classic Rock Tour"! See ClassicRockTour.com for more details!
---
January 29, 2012
Happy 15th Anniversary, Guide to Petra!
---
Would you believe it? Wednesday, January 29, 1997 was the day A Guide to Petra first came online! Today is our fifteenth anniversary! Who would have guessed that not only would I make a ton of great friends and learn a lot of fun stuff because of it, but I would also wind up getting to meet a bunch of people who have been in the band over the years. I also met someone who wound up being even more of a life-changer to me than Petra ever was... a few years after the site went online, through a now-defunct message board I had hacked up, I met a lady who is now my wife. Wish the site Happy Birthday! And stay tuned for good things to come!
---
July 8, 2011
Classic Petra live show Saturday, July 9 on TBN
---
Don't forget... the "Classic Petra" lineup (Greg Volz, Mark Kelly, Louie Weaver, Bob Hartman, John Lawry) filmed a live show for TBN, and it will be on Saturday night! Click the poster below for details:
---
May 10, 2011
John Schlitt Crowdsources New CD
---
John Schlitt is asking for contributions to fund recording a new independent solo CD, to be entitled "The Greater Cause". Click here to read more!
---
November 17, 2010
"Back to the Rock" now available for download!
---
Click here to order!
---
November 7, 2010
"Back to the Rock" song clips
---
Check it out... first verse & chorus from six of the songs on the new Petra CD "Back tot he Rock"!

Back to the Rock" samples
---
November 5, 2010
Track List for New CD
---
from the Classic Petra Blog: We are very proud to announce that the following newly recorded tracks will be included on the new Classic Petra ďBack to the RockĒ CD:
Adonai, Angel of Light, Back To The Rock, Bema Seat, Clean, Godpleaser, Grave Robber, Let Everything That Hath Breath (Praise The Lord), More Power To Ya, Rose Colored Stained Glass Windows, Too Big To Fall, Second Wind.

link

Sounds like it's going to be awesome!
---
October 4, 2010
New Petra CD Has Cover Art!
---
Check it out... the new "Classic Petra" CD's cover art is ready!
Read more at Classic Petra Blog.
---
September 1, 2010
2 Petras?
---
Lots of crazy Petra news for a band that's been "on hiatus" for several years!

The big news a couple of months ago was that Greg X. Volz-era Petra has reconvened for a new CD and new tour. Tour dates have not yet been announced (and at this writing, I don't believe the CD is quite finished yet), but you can always get the latest at ClassicPetra.com.

Meanwhile, "Petra Farewell"-era Petra has been playing select shows! You can get the scoop on performances of that Petra, along with John Schlitt's solo performances and II Guys from Petra performances (that's John Schlitt and Bob Hartman performing together without a band), at the tour dates page at John Schlitt's Web site.

My apologies for the site downtime, by the way. I switched Web hosts, and with the visitor contributions included there is SO much information there that it took me a while to get everything reloaded! We're back up now (mostly... if you find anything messed up let me know through the Meebo Me widget or the email form)... but there are better things on the way. I'm in process of a redesign; the current design is almost ten years old, and it looks like the when-MySpace-was-cool-era design that it is. The look will not be the only thing that's new... so check in every once in a while and see what we've got going! (When the new design is live, it will be VERY obvious.)
---
July 1, 2009
Friend Connect
---
I've added a Friend Connect gadget to the right side of the pages on A Guide To Petra... you'll see it right below the meebo "GTP IM" widget. For right now, the Friend Connect gadget will simply allow you to sign in to Friend Connect and "join" the site (your picture will show up in that window). Later on I plan to incorporate the Friend Connect widget into the existing Guide to Petra login so that you can log in using Friend Connect (which is tied to your regular email or IM account... Google, AOL Instant Messenger, Yahoo, Netlog or OpenID networks work) and you don't have to try to remember a separate login for A Guide to Petra. I'll also set up a way to link up your existing Guide to Petra account to Friend Connect later on so you still stay connected to your existing GTP information. Should be a lot of fun!
---
July 10, 2008
Belief, and Beyond
---
John Schlitt recently appeared on a new recording of the song "Beyond Belief" by a new band called Alakrity. It's a really fun take on the song! Pick up an MP3 for just 99¢ here.
---
February 26, 2008
John's solo CD is now shipping!
---
John's new CD, The Grafting, is available for preorder available NOW from Christianbook.com. Get your copy!

The Guide to Petra review of the CD will be forthcoming after we've had time to live with it a bit. Until then, you can read more about it at the TAG Artist Group Web site.

(CD also available from PetraMerchandise.com)
---
November 6, 2007
II Guys - and Kansas
---
I've set up a page just for fun which is a list of things that Petra and mainstream rock band Kansas have in common. It has a little bit of the flavor of the Kennedy/Lincoln lists that you've probably seen before, but it's fun anyway.

By the way... if you've been to a II Guys from Petra concert and you'd like to write a review for this site, feel free to do so!
---
October 24, 2007
John's new CD has a title
---
The new CD will be called The Grafting and it will become available in January. See John's newsletter for details!
---
October 2, 2007
John Schlitt new CD montage posted October 1
---
On October 1, JohnWSchlitt.com released a montage of songs from John's upcoming brand new CD, along with comments from John himself! Click here to listen to it!
---
January 27, 2007
New Petra CD (well, sorta...)
---
Bob Hartman and John Schlitt have recorded a new CD called Vertical Expressions. You can listen to clips from it at http://www.myspace.com/iiguys, and you can find out how to order it on The List.
---
January 2, 2007
John Schlitt on The 700 Club
---
John (and his wife Dorla) appeared on The 700 Club on January 2, 2007! You can read about it here and here, or you can watch the archived copy of the show here (John's segment begins about 43 minutes and 12 seconds in).
---
November 30, 2006
Chat room fixed
---
In the wake of adding my IM box to all of the pages of the Guide, I have now repaired the chat room. If you have your own Web site, you can even add the same chat to your pages and then your visitors and mine can chat with each other! Pretty cool! Check it out now!
---
November 16, 2006
Amazon.com ad box
---
If you look at the right-hand column on the Guide, you'll notice a new box from Amazon.com. This box is supposed to contain a little ad for something on Amazon that visitors to the site might be interested in. Problem is that it needs a little help to figure out what to put up there! If you've shopped on Amazon before it may show you items related to ones you've viewed on Amazon; otherwise it is supposed to show items of interest to Petra fans. If you see something you are interested in over there, please click on it and help me train the filter. :)
---
November 1, 2006
Petition to return Petra to the stage
---
Christian classic rock station KWOF/The Prodigal Radio has begun a petition to have Petra return to the stage. Click over to TheProdigalRadio.com and take a look! (And hey... whether you sign the petition or not, click on "Listen On-Line" for a SERIOUS Christian rock blast from the past, with LOTS of Petra sprinked in!)
---
October 23, 2006
God Gave Rock
---
A question I received in email led to me checking out some of the videos of various versions of God Gave Rock & Roll To You that have appeared through the years. take a look at three of them and see what you think!
---
September 8, 2006
Meebo Me!
---
I have added a meebo me widget to the side of each page on the Guide. That means that whenever I am on meebo (quite often during the U.S. work day) you can contact me right from most any page on this site! I may not always have time to shoot the breeze, but sometimes I will, and if you have a question, bug report, or whatever about the site, I'm easier to reach than ever!
---
August 31, 2006
New Petra CDs (sorta) In The Works
---
According to this fan post on The Petra Zone, John Schlitt has a new CD about to be released, AND John and Bob Hartmen are (slowly) working on an acoustic worship album together. We've known for some time about John's upcoming CD, and the rumor that its release is imminent is confirmed in the latest newsletter posted on John's Web site.
---
June 12, 2006
Captured in Time & Space finally available on DVD!
---
After 20 years of being unavailable, the video returns in DVD by exclusive arrangement with Petra Productions Inc. This in-concert DVD of the Beat The System Tour is the only legal DVD in existence and is only available here at www.petramerchandise.com . Re-captured from VHS, the audio and video quality is remarkably good, as well as the excitement and inspiration of this monumental tour. "JOHN SCHLITT and BOB HARTMAN of PETRA in an INTIMATE EVENING of ACOUSTIC MUSIC and PERSONAL TESTIMONY." In December of 2006 John and Bob will be teaming up for an acoustic mini-tour. This will be the first time the two will perform together since Petra's retirement - exactly a year ago. The set will consist of classic Petra songs, praise music, and sharing of testimonies and stories from the past by both John and Bob. For more details: JohnWSchlitt.com
---
May 2, 2006
Bob posts about the track error on The Ultimate Collection
---
Copied from The Petra Zone:
Hi all, it's me, Bob. I wanted you to know, as some of you have pointed out in posts, that there is now a replacement CD available for the Collection CD that contains the song "I Love You Lord" instead of the correct song, "I Love The Lord". You need to email Steve Blair at EMI, sblair@emicmg.com with your name and address and he will send you a replacement or give you instructions. I tried very hard to stop this mistake from being made in the first place but it happened in spite of all my efforts. BTW, I did personally pick the songs. There were several ways I could have gone with this. I could have picked my favorites, which would have been a different list. But I chose to pick songs I felt were important in Petra's history. I tell why in the liner notes. I knew there was no way to pick everyone's favorite so I settled on aiming the choice of songs in favor of someone not so familiar with Petra as all of you, because I knew you had all these songs anyway!
So...you might be wondering what I am up to these days. In between making guitars and finishing up some Petra business, I am working on some music. Maybe you will hear about that at a later date.
So thank you all for your support and thanks for making the Farewell Tour the best tour of my life!
Bless You,
Bob
---
March 8, 2006
New CD Art for Ultimate Collection
---
Not too long ago, we thought we had obtained the cover art for the upcoming CD retrospective set, Petra: The Ultimate Collection. The CD art we posted used the same photo as the older greatest hits collection called The Early Years on its cover. The REAL cover, as we now know, looks like this:



(click for a bigger version)



We have also posted the correct track list, which sadly does not include the classic Lucas McGraw (it just didn't fit in well with the rock & roll on the rest of the CD). And here is an excerpt from the extensive liner notes, which were written by Bob Hartman himself:

"In the beginning, four Bible school students had a desire to share our faith in the language we knew the best: rock-and-roll. Much to our surprise, not everyone in the Church was as excited about the idea as we were. We played long solos and rocked out with songs like `Backslidin' Blues' and `Walkin' in the Light'. But it wasn't long before we needed to `break the ice' in our concerts with something on the lighter side, and that's just what `Lucas McGraw' did. Instead of a forgotten novelty song, it has become a worldwide favorite, even though it hasn't made a set list since the earliest days. Due to style issues, it couldn't be included in this compilation, but it is worthy of a mention anyway." - Bob Hartman

This is just the first of eight paragraphs of notes, which go on to explain all of the songs as well as the uncertainty of Petra's future after the departure of Greg X. Volz.

(If you are curious about how the rejected cover looked, we've kept a copy available: click here for the rejected cover)
---
February 9, 2006
Petra Farewell DVD Cover Art
---
The cover of the upcoming DVD is based on the same art that is on the CD. Here's the stuff listed on the back cover: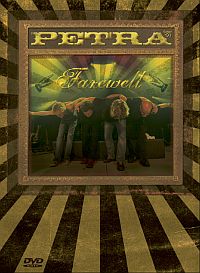 Track List
01. All About Who You Know
02. Dance
03. Amazing Grace
04. Test of Time
05. Creed
06. Right Place
07. ROCK MEDLEY: Sight Unseen * It Is Finished *Think Twice * I Am on the Rock * Midnight Oil * Mine Field * This Means War
08. Jekyll and Hyde
09. ACOUSTIC SET: Rose Colored Stained Glass Windows * Road to Zion * For Annie * No Doubt * The Coloring Song * Love
10. Grave Robber
11. Beyond Belief
12. He Came, He Saw, He Conquered

BONUS MATERIAL:
* Interview with Petra
* Interview with Peter Furler (newsboys)
* Interview with fans
* Bonus rehearsal footage

Letterbox/Stereo/1 hr, 50 min

The DVD version of Petra Farewell will be released on March 7. Preorder the DVD online or find a copy on that date and snap it up! Opening week sales mean a lot to retailers, just like opening weekend box office means a lot to movie theater owners. (For more DVD purchasing options, visit The List.)
---
January 5, 2006
New Petra Stuff in 2006!
---
Now that Petra has officially disbanded (except for a single possible "makeup concert" in Brazil because of a flub that caused that performance to be cancelled), you would think that there won't be any new Petra stuff this year. Not so! First of all, the DVD version of Petra Farewell will be released on March 7. Preorder the DVD online or find a copy on that date and snap it up! Opening week sales mean a lot to retailers, just like opening weekend box office means a lot to movie theater owners...
Before that, though, you will have a chance to pick up The Praise Collection, a budget-priced double-CD set of Petra Praise · The Rock Cries Out and Petra Praise 2: We Need Jesus. Look for that one to come out on February 28. (Sad that the excellent praise material from Revival is not to be included.)

Then, once you've relived some of Petra's greatest songs on the new live DVD, get them in their original studio versions on The Ultimate Collection, a 2-CD set of 33 of Petra's greatest songs, selected and with liner notes by Bob Hartman. This one comes out on March 21.
Always remember: If you're planning on shopping for Petra-related stuff online, you should really pay a visit to The List! We keep it updated with new items (we've been busy lately!) and places to buy the old items. There's almost certainly something on The List that you didn't already know about... check it out!
---
December 27, 2005
Greg X. at final Petra concert
---
This just in from Barbara Volz (wife of Greg X. Volz):
Just wanted to let you know that Greg will be in Murphy, NC New Years Eve with Petra for their LAST concert and will be ministering at On Fire Family Church, Murphy, NC the morning of New Years Day. He will be ministering somewhere in NC or GA Sunday night, Jan 1 for the night service and just wanted to pass it to you in case might want to know.
---
December 7, 2005
Christian Music Rewind - Farewell Tour show
---
From the email bag:
Hello, my name is Shaun Michaels and I am the host and producer of a classic Christian music radio show called "Christian Music Rewind". I wanted to alert your website to a special "Farewell to Petra" show we have planned for this weekend. We have conducted interviews with Bob Hartman, John Schlitt, Greg X. Volz and John DeGroff for the show. We will also featuring some of the most memorable hits from the band's career. Plus later this week our website will have exclusive picture from the Enid Oklahoma concert featuring GHF, the original Petra reunion, and the Petra Farewell tour show. The website will also have the full interviews (with additional material not used on the show) for download on the webstite this weekend. Our website is only a few weeks old and is located at www.cmrewind.com.
The "weekend" in question would be the weekend of December 10-11, 2005.
---
November 23, 2005
Petra Farewell Reviews
---
The Guide to Petra review of Petra Farewell is up now, and other reviews are starting to come in. You can read my review here, and on that same page you can find links to reviews on other sites as well.
---
November 5, 2005
All Petra, All The Time
---
From now until the end of November, listen at AroundTheWorldRadio.org for Petra, 24/7!

There is an MP3 of a radio spot for the upcoming CD which Inpop has made available to listen to. click here to hear it!

Inpop has also released a 9-minute promo video for the new album at Inpop.com/dopwnload. It consists of the entire "Acoustic Set" from the new CD, with video from the concert. If you watch closely, you may even see your Webmaster's blue head, moustache and all, singing along with the last line or two of "Love"!
---
November 1, 2005
Track list for new CD
---
The quick-thinking Webmaster of PetraPraise.com has found the track list of Petra Farewell on Chordant's Web site. It's of course roughly the same as the set list from the concert, with a few minor differences. Take a look at the Petra Farewell CD page for the list, as posted on Chordant's site!
---
October 13, 2005
Petra Farewell Album Cover
---
It appears that we have an album cover for the new Petra Farewell CD!
If you're having trouble making it out, that's a picture of the four band members bowing at the end of the performance. View a similar picture, taken at about the same moment, right here
You can read MUCH more about the performance, including a number of eyewitness accounts (or submit your own, if you were there!), at http://www.guidetopetra.com/oct4/!
---
October 5, 2005
Petra Taping RULED!
---
The concert taping in Franklin, TN was AWESOME! The band was tight, the crowd was WILD, and I can't WAIT to hear the CD! Check out http://www.guidetopetra.com/oct4/ for much more about the concert as it becomes available!
---
October 5, 2005
Did you go to the concert in Franklin?
---
If you did... post your concert review at the Guide to Petra October 4 Concert center!

http://www.guidetopetra.com/oct4/
---
October 4, 2005
Michael & Cathy on the radio!
---
Before the Petra taping in Franklin, Michael and Cathy, your Guide to Petra Webmasters, were interviewed on Way-FM's Total Axxess show!
---
September 27, 2005
Tickets for October 4 Taping
---
Well, it looks like all the reserved fan tickets to the CD/DVD taping in Franklin, Tennessee have been snapped up. HOWEVER: if you happen to be in the Franklin area and want to try and get a reserved-but-not-picked-up ticket, those tickets will be made available at the venue at 6pm the night of the performance. Good luck!
---
September 26, 2005
Song Downloads Available
---
Our main CD partner, ChristianBook.com, recently added song downloads to their catalog, so we've added them here at A Guide to Petra! Go to any album page and click the "Buy WMA" links to go to the individual songs' download pages. I believe all of the downloads are 99 cents apiece, and unfortunately WMA is pretty Windows-specific... but if you're using Windows, you can create your own Petra's Greatest Hits CD for less than the price of a regular compilation! (You can probably do a better job at it than Star Song, at least!)

A few caveats... a couple of the CDs are not available in their entirety; we have linked to songs from those CDs that also appear on the compilation albums. And we haven't yet linked to the downloads from the Captured in Time & Space CD because of the complexity of the download links (each song is a separate download, including each part of the medleys; the talking segments between the songs are separate downloads; it's quite a mess). We'll get that figured out soon!
---
September 17, 2005
Petra Farewell - NEW CD AND DVD!
---
Straight from Inpop Records, here's the scoop:
To celebrate 33 years of music and ministry from the pioneering Christian rock band, Petra, Inpop Records will release Petra Farewell on Nov. 22. Petra Farewell, a CD/DVD combo filmed before a live audience, will feature Petra classics, emerging worship favorites, and guest appearances by former band members.

Petra fans are welcome to attend the FREE live taping. The show will be on October 4th at The W in Franklin, TN (show start time is TBD). Admission is first-come, first-serve to a maximum capacity of 500.

The band, which has impacted generations of musicians and fans alike over the years with over seven million CDs sold, four Grammy Awards, 10 Dove Awards and an induction into the Gospel Music Hall of Fame, will tour extensively this fall with newcomer Sarah Brendel before disbanding at the year's end.
News release at Inpop Records
UPDATE: Because of overwhelming response from fans, Inpop has announced that this is being turned into an "invitation only" event. Don't worry... you may be able to get an invitation for yourself! Watch the front page of A Guide to Petra for details!
---
August 22, 2005
New Scripture site on line
---
Have you noticed the banner for "ScriptureMenu.com" at the bottom of every page lately? How about the tiny text links directly under the Album Spinner in the column on the right? ScriptureMenu.com is the newest site we've added to our little family... the other one being PetraTulsa.org. Take a look at both of them and see what you think!
---
June 29, 2005
Solo album reviews
---
If you haven't noticed, along with the minor changes in the look of the front page of The Guide to Petra, over the next months we're going to be adding reivews of some of the solo projects created by former members of Petra, and some of the band projects they have participated in. Our first solo CD review is Trent Thomason's Hold Out Your Hands; Trent was the keyboard player for Petra for a while, and even appeared on the Double Take CD. Take a look at the review now, and check back soon for a review of his second solo effort, called simply Ten!
---
May 24, 2005
Tributes page and Wiki
---
Don't forget: you can add your own memories about Petra at the Tributes page... and also add to the collective knowledge base about Petra at the Petra Wiki!
---
May 24, 2005
Petra retirement announcement at band's official site
---
Here it is, straight from PetraBand.com:

Petra Retires
Christian Rock Pioneers Say Goodbye After 33 Strong Years
Nashville, TN - After 33 years of music and ministry, Christian rock pioneer PETRA will come to a close. December 2005 will mark the end to a ministry that has boldly and consistently proclaimed the gospel in the United States and abroad. The decision to retire the band was mutual by all members.

"It has been a privilege and honor to represent our Savior and participate in His Great Commission. We have nothing but thanks to God for all He has done," says PETRA founder, guitarist and primary songwriter Bob Hartman.

"God used PETRA in my life in so many ways, as He did in so many other lives," says lead singer since 1986, John Schlitt. "I am truly thankful for having been part of PETRA. We've had a good long run and have seen so much. We've seen God's hand at work in our music on every continent and in every language," he says.

The band has impacted generations of musicians and fans alike over the years with over seven million CDs sold, four Grammy Awards, 10 Dove Awards and an induction into the Gospel Music Hall of Fame. PETRA, initially formed in 1972 by Hartman on vocals and guitars, paved the way for the rock genre perhaps more than any other in the Christian music industry. Though a rotating cast of musicians comprised PETRA's lineup over the years, the band is closing 2005 strong with over 20 albums to its credit, the latest being the 2003 Grammy-nominated Jekyll & Hyde.

At present, Schlitt and Hartman have made no immediate plans for the future.

"I'm not sure what the future will bring for me," says Schlitt, "but when God chooses to show us His will, then we just go in faith and walk in faith toward Him. He has never let us down, and He never will."

There are currently talks of a live album or box set to release in the future. Final PETRA tours in the United States and Europe are in the planning stages. There will be no further concerts booked after this year.

"PETRA has always been one of the biggest names in Christian rock," says Inpop Records President Wes Campbell. "PETRA's contributions to our industry are innumerable, and the band was very instrumental in the beginning stages of newsboys career. We are honored to have supported PETRA in its ministry and music," he says.
---
May 13, 2005
The Petra Wiki
---
What is a "Wiki?" It's a Web site where all of the pages are editable by everyone. Sound crazy? Yep! But it's fun. I've set up a wiki about Petra at wiki.GuideToPetra.com, and it needs a LOT of work to be truly anything like complete. So get to work! :)
---
May 13, 2005
Petra Calls It Quits
---
After 30+ years of music and ministry, Petra is calling it a day. Read John Schlitt's official word at his Web site. There is an article about the situation posted on the front page of Petra Rocks My World, and an official announcement should be forthcoming from PetraBand.com. You can read Cathy's and my thoughts, along with the thoughts of others, on the Tributes page.
---
March 28, 2005
Ever hear the ORIGINAL Petra?
---
You know, the ones from THIS album?
Well, the ORIGINAL Petra (minus Bob Hartman) are releasing a new CD as GHF. It contains some major vintage Petra! Read all about how to order it right here.
---
February 3, 2005
Prices on The List!
---
Thanks to the innovation of two of our online partners, Amazon.com and ChristianBook.com, we are now able to actually display their prices on many of the pages of our site which link to CDs for sale, most notably The List. Get yourself a bargain!
---
January 5, 2005
Petra plays Australia
---
On the heels of a successful tour in India, Petra is slated to play in Australia in March. Take a look at the AGMF 2005 Web site for more information!
---
December 14, 2004
MP3 Clips List
---
For some time now we've had MP3 clips of all of the songs on Petra's albums available for your listening enjoyment. Now we've added a convenient list of them!
---
December 8, 2004
New pictures!
---
We have some new pictures posted... there are some serious vintage snapshots of Petra on this page (submitted by former Petra keyboardist John Slick!), and at the other end of the spectrum, a fresh-of-the-presses picture of Petra's two newest members in India in late November of this year. Enjoy!
---
December 7, 2004
Petra in the News
---
For a while now we've had an RSS Feed containing links to news items of interest to Petra fans. If you haven't jumped on the bandwagon yet, though, we've added links to the most recent items on the Guide to Petra home page, and we've also added a page listing all of them. Currently the last few items are about Petra's shows in India this month... great stuff!
---
November 22, 2004
New album in the works...
---
According to several reports from people who have spoken to the members of Petra at concerts, there is a new CD being written right now! No release date yet, of course (you'd want to actually record the songs before you decide on that!), but stay tuned right here for the latest as it develops!
---
November 22, 2004
Articles (like the one below this one!)
---
Have you seen the "Articles" page? It's got a bunch of articles about Petra from waaay back, all the way to the present, all linked from one convenient page. Read one of them on the Guide to Petra main page! (If you're reading this on the main page, just scroll down a bit...)
---
August 4, 2004
Petra at Shoutfest!
---
Petra will be appearing on the "Shoutfest" festivals; current dates run throughout September. Visit Shoutfest.com for more details!
---
June 23, 2004
GuideToPetra.com email problem
---
There has been a problem with GuideToPetra.com email for the past few weeks, so if you have emailed me or Cat and not heard back you might try again. I think any messages sent from the email form got through, but if you didn't hear back you might try again.
---
May 31, 2004
Captured in Time & Space Petition Update
---
As over 500 of you know, for the past few months we have been running an online petition to see Captured in Time & Space released on DVD. Well... I've talked to the video's director, the album's producer, the archive librarian at EMI (which now owns Star Song), Greg X. Volz and Bob Hartman, and nobody knows where the master films are! This is bad news for us... if the only surviving copies of the performance are VHS copies, then we don't really have source material of sufficient quality to produce a decent DVD. If you have any ideas of who we could contact next, let us know!
---
May 24, 2004
New concert pictures posted!
---
Thanks to a great Brazilian Pethead, we now have pictures from the Brasilia, Brazil concert in April!
---
May 20, 2004
New interview with Petra
---
There's a new interview with Bob and John available at CMCentral. It's written by a longtime fan, Michael Janke, so there's some good stuff in there that an interviewer who wasn't as familiar with Petra might not have thought to ask... cool stuff!
---
May 17, 2004
Pictures of Petra booth
---
Check it out... I was at a trade fair recently and took some pictures of a booth about Petra! (hehe... No, it's NOT "our" Petra, but it's fun anyway!)
---
May 1, 2004
Petra Reunion Concert
---
Check out this message from Bill Glover (one of the founding members of Petra):

Hey Everyone!

I wanted you to be the first to know the awesome good news!

The original, co-founding members of Petra will be doing a reuion concert in Angola, Indiana, at the Oak Hill Campground and Retreat Center, June 12th, 2004! Present day Petra will be performing too! Both bands on one stage, in one concert, for one night only! Please help us spread the word!

John DeGroff's father died earlier this year and God has brought real revival to his heart! He has recently moved back home from Nashville, Tennessee, and is playing bass with me in my church's praise and worship band!

All four original, founding members, John, Greg, Bob and myself, will be playing together on the same stage for the first time in 30 years!

Please pray with us that God will move in an awesome way as we stage this historical reuion!

Bill
---
April 5, 2004
TWO Petra lead singers on one CD!
---
Check it out... both John Schlitt and Greg X. Volz have solo cuts on this new CD!
This project is a who's who of Christian rock from the 80's and 90's... some other guest vocalists on it are Michael Sweet (Stryper), Jamie Rowe (Guardian), Paul Q. Pek (One Bad Pig), Ken Tamplin (Shout), Bob Carlisle (Allies), Mike Roe (77's), Scott Wenzel (Whitecross), Dale Thompson (Bride), Rick Florian (White Heart)... and more, including lead singers of some SECULAR bands! The Web site is http://www.3chordrecords.net/. It's a little weird to find the sample tracks; they're on the "media" page at http://www.3chordrecords.net/media.html.
---
February 23, 2004
Introducing: RSS Feeds!
---
We are rolling out a new feature at A Guide to Petra... RSS Feeds! From now on, you can access some of the information on this site (for example, this news article!) via an "RSS Reader" or "RSS Aggregator." Using this software, you can check headlines, new concert reviews, whatever... without having to visit the site until something of interest is available. We have a number of feeds already, and that number is growing... click here for a complete list!
---
February 17, 2004
Jekyll & Hyde En Español
---
Jekyll & Hyde is being re-voiced in Spanish!
Release date is April 20, 2004. Stay tuned for more details as they become available!
---
February 12, 2004
New single released from JAH!
---
The new rock single is "Woulda, Shoulda, Coulda". Contact your local Christian rock station and see if they have it, and make sure you request it on stations that are playing it... like ChristianRock.net! If you do hear it on the radio, let us know about it so we can thank them... and if you heard it and have something to say about it, leave your comments about the song for the world to see! (You can also read what other people had to say about the song.)
---
February 9, 2004
Jekyll & Hyde does not win the Grammy this year
---
JAH was beaten out by a worthy challenger: Audio Adrenaline's Worldwide. Which just means you're going to have to make another world-class CD next year, guys!
List of Winners
---
December 5, 2003
Jekyll & Hyde Nominated For Grammy!
---
Jekyll & Hyde has been nominated for a Grammy award for Best Rock Gospel Album! According to Grammy.com, "The 46th GRAMMY Awards will be held on Sunday, February 8, 2004, at Staples Center in Los Angeles and will again be broadcast in High Definition TV and 5.1 Surround Sound on CBS from 8-11:30 p.m. on the East and West Coasts."
---
December 2, 2003
"Petra Still Means Rock" - of COURSE it does!
---
Check out this new Christianity Today article:

...to find out why Bob left the road, why he came back, why Petra waited so long to rock again with Jekyll & Hyde, and who John found to play guitar "just like Bob!"
---
November 14, 2003
Some great updates to the Marketplace site!
---
I've updated the links on the Petra Marketplace page, deleted some old broken sites and in the process, added a few nice features. Now that page includes search boxes for several online music/book retailers; bookmark that page and use it to do price comparisons between several sites for whatever CD, book or other item you are shopping for!

Petra Marketplace page

And don't forget The List... a list of all of the Petra items I could find available online. Even some hard-to-find gems!
---
October 22, 2003
Captured in Time & Space Petition Letter Sent!
---
On Tuesday, October 21 I sent a letter to Mark Dunn at EMI Group. Click here to read all about it!
---
September 25, 2003
Discussion Board About The Guide
---
Did you know there is a discussion area about this site? Take a look at it here, and post your thoughts! (There's also an area for discussion about JohnWSchlitt.com, an area about other Petra Web sites, and areas about Petra's concerts and recordings.)
---
August 28, 2003
New Album, New Sponsored Tour!
---
The new CD is out, and response has been WONDERFUL! This thing rocks harder than anything Petra has released before. Don't forget to add your thoughts about the album to this site, or add it to your list of favorites! (If you haven't heard it yet, you can listen to the entire album online at PetraBand.com.)

ALSO: Visit the CCM Readers Choice Awards Ballot and vote for Petra!

And for those who would like to book Petra for a concert, there is a golden opportunity in the works for late this year! The following information is from Scott Huie at H2O Artists Agency:
Petra
Jekyll & Hyde
Promotional Tour

For Only $2,000.00 after $1,500 rebate for qualifying buyers.

Founder and Songwriter Bob Hartman is back!

After 30 years of recording and touring and over seven million records sold and 1,800 concerts performed, Petra releases their hardest rock record yet. "Jekyll and Hyde" on sale August 18!

"Food for the Hungry" and Petra have teamed up to bring your organization a unique opportunity for a night of entertainment and ministry to promote their new album.

We want to give you $1,500 towards your Petra show expenses. This unbelievable offer is our way of saying "thanks" for years of support from our faithful promoters.

Petra is ready to hit the road this fall so book early! This offer won't last long!

Ph: 770-736-5363 E-mail: booking@h2oartistagency.com
This is a MAJOR BARGAIN for a show from Petra. Talk to pastors, youth pastors, and other interested parties in your area... get in on this while you can!
---
August 21, 2003
You Don't Have To Click The Links Any More!
---
If you are a Guide to Petra, you have a new option as far as adding material... visit http://www.guidetopetra.com/myguide/ , put in your password, and add as many new things as you want with no mail response needed! If you haven't received your password in email, please send me an email and we'll figure out what happened.

Don't forget to add Jekyll & Hyde to your favorite CDs list!
---
July 28, 2003
Preorders Jumping for Jekyll and Hyde
---
The sales rank for Jekyll and Hyde on Amazon.com is jumping! On July 26 the album was ranked #461,517 among all of their products... the next day it was #295,223... and by Monday it had reached #29,710! This is probably due in part to a short news announcement on MelodicRock.com on Sunday. Click here to see what the sales rank of Jekyll and Hyde is now!
---
July 23, 2003
Contest Results and New Stuff
---
There's some pretty cool stuff is going on here at A Guide to Petra! The results to the Power of Praise contest are in; see them now on the contest page!

I'm working on some pages for people who have set up their own Guide areas, but in addition to that I've added some information from Amazon.com to the mix. You can see it by starting at the review page for Beyond Belief.

- Directly under the picture you will see the words "see larger picture". If you click on them, you will see... well, a larger picture of the album cover!

- If you haven't noticed the audio clips I've added for most of the albums, you can listen to them too. Links are in the white box next to the song titles. You can also play all the clips for a particular album at once.
- Down below the "Other guides" section, you will see the words "Amazon.com reviews". If you click there, you will see a page that... well, it has some of the Amazon.com reviews for the album on it!


- If you scroll down even further, under the ChristianBook.com graphic you will see the words "More ways to buy..." in italics. That link will take you to a page with some pretty interesting information on it... links to all of the places I have linked up that sell the album (3 in this case), a "People who like this CD also like these Petra CDs" section that is based on the "favorite/least favorite" voting results. The list you see is the top five CDs that also appear on favorites lists that include the album. In other words, the majority of people who consider this album a favorite also consider these albums favorites. Beneath that you will see the "similar albums" list from Amazon.com; between those two lists people should have a lot of options as to what other CDs they might like if they like the one they're looking at.
Don't forget to stay tuned for those contest winners!
---
June 27, 2003
Today is "Jekyll and Hyde" day!
---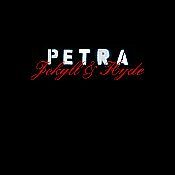 Today, Friday June 27th, is the "add date" for the first rock single from the upcoming album, "Jekyll and Hyde." Call your local Christian rock station and ask them if they'll play it! Before you do so, though, do the following:

1. Listen to the song... it ROCKS!
2. Arm yourself with some information... click here to equip yourself to make a good impression on whoever you get on the phone

If you hear the song on the radio, add it to our radio stations list! It'll give them some good exposure and we'll get a chance to thank them for doing the right thing!
---
June 24, 2003
Hear The New Single!
---
The new AC (Adult Contemporary, or "Pop") single from the upcoming album is available for fans to listen to... click here to listen to "Till Everything I Do"! (And if you haven't heard the title track (which is the first rock single) yet, click here to listen to "Jekyll and Hyde"!)

Once you've listened to them, don't forget to sound off on each of them:
"Till Everything I Do" - "Jekyll and Hyde

Also visit CCM Magazine's site and vote for Petra in the "CCM Survey"!
---
June 23, 2003
Power of Praise Giveaway Contest
---
Click here to enter our contest to win one of five copies of the new Word compilation, The Power of Praise!
---
June 18, 2003
Pictures of the Jun 14 2003 concert
---
You can see some pictures of last Saturday's concert right here (there is also a link to the review of the concert posted by another attendee!)
---
June 9, 2003
Inpop is asking for our help!
---
This message was posted by James Riley at Inpop Records:
Ok, so we want to show radio, press and retail how many Petra fans are out there and what they are already saying about the preview song. We want to be able to give some key people a spiral bound book of responses from fans so we need your help. We need an e-mail from everyone that has heard the song containing the following info:
- excitement over the song and anticipation of the new album
- how long you've been a Petra fan and if the excitement over this album is more then of albums past (especially recent albums)
-response from people that you played the song for. Ok, don't mention in the e-mail if you downloaded the song.
- Keep it brief and to the point, but do include all info you feel is necessary. We don't have time to edit all of these so the more to the point the better.
- Only send one e-mail because we want them all to be from different people.
- Title the subject "New Petra Album"
- Send e-mail to EMAIL ADDRESS REMOVED
Thanks for doing that. This will be a HUGE help. I'm still getting responses from radio saying how much they like the new song but wondering if there is still a market for Petra on the air. I think this is ridiculous so that's why I'm going to show them the amount of sites out there as well as responses from fans. The more I can get the better so tell your friends. We'll also tell you when we hear that magazines and others are doing polls so we can all vote for Petra. Be sure and do the same to us if you see one that you haven't heard about.
James Riley
Inpop Records
---
June 6, 2003
Add your comments on the new song!
---
How many times have you listened to "Jekyll and Hyde" so far? Lots? Tell the world what you think! Now you can add your own comments on any Petra song to your own Guide to Petra page!

Click here to add your comments about the new rock single, "Jekyll and Hyde"
Click here to add your comments about any Petra song
Click here to read other people's comments on "Jekyll and Hyde"

Haven't heard the song yet? Click here to listen to it!
---
June 5, 2003
Inpop News Release
---
PETRA TO RELEASE JEKYLL AND HYDE AUGUST 19

GUITARIST BOB HARTMAN RE-JOINS GROUP ON MOST AGGRESSIVE ROCK RECORD TO DATE

NASHVILLE, Tenn. 'ÄĒ Inpop Records Grammy and Dove Award-winning rock group, Petra, is set to release their 20th studio record, Jekyll and Hyde, on August 19. Petra'Äôs founder Bob Hartman has re-joined the group for what is arguably their most aggressive rock record to date. Hartman, who wrote or co-wrote each of the ten songs on the project, will tour as Petra'Äôs guitarist for the first time in over 7 years. Jekyll and Hyde is produced by Newsboy'Äôs frontman and Inpop Records co-owner, Peter Furler. In addition to his role as producer, Furler adds his signature drumming to the collection of straight-ahead rock tracks.

'ÄúIt seems odd to say that this record is our most aggressive rock record so far,'ÄĚ states Petra lead singer John Schlitt. 'ÄúFor years, our fans have been asking for an all-out rock and roll record. Jekyll and Hyde is just that, and we think it will have been worth the wait.'ÄĚ Hartman adds, 'ÄúIt may have been a few years since I'Äôve been an active part of Petra, but my heart has never left. I'Äôm more excited about this project than anything else I'Äôve done and I can'Äôt wait for people to hear it.'ÄĚ

Jekyll and Hyde'Äôs title track will serve as the project'Äôs first single at Rock radio with a June 27 add date. 'ÄúTill'Äô Everything I Do'ÄĚ will be serviced to AC/CHR radio approximately two weeks later. In addition to a national radio promotion campaign, Jekyll and Hyde will benefit from extensive fan promotions, including an online contest with a grand-prize of a guitar autographed by Bob Hartman and John Schlitt. Other elements of the marketing plan for Jekyll and Hyde include extensive retail catalog advertising and positioning, consumer advertising and a full publicity campaign.

'ÄúI think almost everyone has a 'ÄėPetra'Äô story or can remember the first time they heard the band,'ÄĚ comments Furler. 'ÄúPetra has played a very important role in our industry, and laid some ground for all of us to walk. I respect them for their hard work, and have been personally impacted by the band over the years.'ÄĚ

Petra was founded in 1972 and has sold over 7 million records over their 30+ year career. They have been the recipient of four Grammy Awards and ten Dove Awards, and in 2000, the group was inducted into the Gospel Music Hall of Fame. The band is currently finishing work on Jekyll and Hyde and in the process of finalizing their summer and fall touring schedule.
---
Click to listen to the rock single, "Jekyll and Hyde"!
---
June 2, 2003
New song available... take a listen!
---

While you're there, enter the contest to win a guitar signed by Bob Hartman and John Schlitt!
---
May 26, 2003
New feature of The List
---
We've added an interesting new feature to The List... a CD recommender! It works this way... go to The List (a list of every Petra item I've been able to find available for sale on the Net) and click on an album cover (only the regular Petra albums, not the collections or solo projects). The page you will see will have a list of the songs, the album title, a list of places you can buy the CD, and then it may say "People who like this CD also like these Petra CDs". If it says that, the list of CDs after those words are CDs that were mentioned along with the one you're looking at as other Petra fans' favorites. How can YOUR favorites be included in the ranking? Easy... click here to add them! (Future plans include ranking the top 5 favorite Petra albums and the top 5 most-disliked Petra albums... stay tuned!)
---
May 23, 2003
New Petra Album Title!
---
According to the 5/23/03 newsletter which now should be available at JohnWSchlitt.com, the new Petra album will be titled "Jekyll and Hyde", and the title song will be made available to download on June 2. This is the rocker, folks!
---
May 15, 2003
CCM Article About Quinton's New Band
---
Click here to read the CCM article about Quinton Gibson's new band, Strange Celebrity.
---
May 12, 2003
Louie Weaver's Statement
---
Louie's statement about his recent departure from Petra is now available right here.
---
May 2, 2003
John's May 1 Newsletter
---
Hello everyone,

As I promised, we have a message on Petra's new website for all you who have faithfully and patiently waited to hear from us.

The new site is petraband.com

There will be more information to come as Petra continues to reorganize, and as the website is added to and updated.

I know you've all been waiting a long time for an announcement, so again - thank you for your patience.

John
---
The Announcement
"We would like to thank you, our fans, which have stayed faithful for all these years. We are in the process of making many exciting changes concerning Petra and many of these changes will be announced to you as they unfold.
"Louie Weaver has been a faithful member of Petra for many years. Unfortunately the band and Louie have come to an impasse and he will not be performing with us any longer. We have all sought the Lord for a long time in prayer and council and feel that this is the Lord's will in this situation. We hold no ill feelings towards Louie and we wish him and his family all the best in whatever God's called him to next. Please, continue to hold us all in your prayers and thank you for your patience regarding this matter.
"Secondly, we are hard at work in the studio with Peter Furler making a classic Petra Rock Record. The record should be on sale sometime around August. We are trying to work out a way you guys, our most loyal fans can purchase the record before it goes to the bookstores.
"Thanks again for all of your support and we look forward to seeing you at a Petra show soon.
Petra Band
Wayne Seboa"
---
April 29, 2003
Captured in Time & Space DVD petition - PetraTulsa.org discussion board
---
We've added a brand new discussion board at PetraTulsa.org... and there's a section about A Guide To Petra there, too! Head on over, register, and tell us what you think about the site!

ALSO: if you would like to see the Captured in Time & Space video re-released on DVD, click here to sign the petition!
---
April 27, 2003
Quinton Gibson has left Petra!
---
Word from Q is that he is no longer handling guitar duties for Petra... he has moved on to a new band called "Strange Celebrity". Look for them soon playing a concert near you!

Strange Celebrity's new album, "Remedy"
Quinton's site... check there for tour dates for now...
...until StrangeCelebrity.com is ready!
---
April 1, 2003
New Album: Newsboys connection?
---
Looks like there might be an interesting new twist or two on the upcoming rock album from Petra. From a message posted by an Inpop spokesperson:
Petra is currently in the studio with Peter Furler with an album that promises to be the rock album fans have been requesting for years. Early indications prove that it rocks!!!
Does this mean Peter Furler (lead singer of and mastermind behind Newsboys) will be producing, co-writing, performing...? Stay tuned!
---
February 24, 2003
New album: release date?
---
According to this page at Gospelsite.net and this page at CMCentral.com, the release date for the upcoming Petra CD will be August 12, 2003. Stay tuned!
---
February 8, 2003
New album: announcement from Inpop
---
Here's the latest scoop from Inpop about Petra:

"The band is currently writing for a rock album due late summer. The fans spoke and the band listened. Everyone has been chomping at the bit for loud rock album from the group and they promise to deliver."

This confirms what John Schlitt said in his December 30, 2002 newsletter:

"Please keep praying for us; we are excited about the new record we'Äôre working on 'Äď Bob'Äôs doing a lot of writing, the guys are starting to write for it also, and believe it or not 'Äď I'Äôm thinking about it myself!"

Stay tuned!
---
January 16, 2003
New server, new site!
---
We have moved A Guide To Petra to a new server... and that means we have been able to open up a BRAND NEW site all about Petra in Tulsa, Oklahoma! Check it out: PetraTulsa.org
---
December 9, 2002
Petra in India
---
Petra is making headlines as the first known contemporary Christian artist ever to perform in India. The legendary band will be performing three shows: Thiruvalla in Kerala on December 12, and in Bangalore on December 15 & 16. With one of the largest national populations on earth, India is fresh ground for Christian artists like Petra who put ministry first.

Petra will also be hosting dinner on December 10 with 200 Indian fans who purchased special tickets. Petra's manager has indicated that the band is interested in returning to the Asian nation if this tour goes well.
---
October 28, 2002
Still Means War Track List
---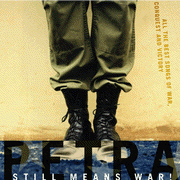 Your Guide to Petra has come through for you again, as the first Petra Fan site with the track list for the new Word compilation, Still Means War! The collection of some of Petra's greatest Spiritual warfare songs also includes a brief but interesting history of the band from its beginnings up to the time of Double Take. One surprise is that it includes the now-rare recording of "Onward Christian Soldiers" from a CCM Hymns CD that came out in 1989. Visit The List to order it from your choice of several online merchants; the project was released on November 19, 2002.
---
October 18, 2002
Official 2003 Petra Calendars Are Available
---
Want to spend 2003 with your favorite Christian rock band? You can... buy the Official 2003 Petra Calendar! It has pictures of the band members and their families, photos from past tours, special dates from Petra's history right on the calendar... great stuff! Click over to this page to find out how to order. (NOTE: it's important to let Sue know if you intend to order... quantities will be limited!)

PLEASE READ!

John Schlitt's official Web site has been hijacked! Until the regular name of the site , JohnSchlitt.com, is restored, please visit the site at JohnWSchlitt.com. Thanks!

ALSO:
Vote for Petra to be included in the 2003 Creation Festival! (And at the same time, enter a contest to win tickets to go yourself!) Click here to vote!
---
August 9, 2002
Next Album=possible indie?
---
Acording to Sue D on The Petra Zone, Petra is toying with the idea of recording a new, independent release! She said:
[John Schlitt] said to tell you all that Petra IS toying with the idea of another album, and they are in the process of writing it right now.

More than likely it will NOT be on a label, but an independently-produced product.

It would probably first be sold via internet only, and if it sells well that way, then they will look at more options as far as distribution.

What style, you say? What Petra is known best for:

ROCK!

So people... this may be the rocker you've all been waiting for!

Now remember... this is all in the planning stages right now--nothing is firm nor for sure, so keep that in mind!
The Webmaster of JohnSchlitt.com responded with this:
With this "Idea" of Petra cutting an album and doing the whole thing independent, I had a GREAT idea!

John is TOTALLY stepping out in faith by even CONSIDERING this, and alot of us have said here that we think it's a GREAT idea!

But, I'm sure John's biggest hang up is wondering if there will be support or not. This is where my idea comes in.

I'm going to use John's email address as a front! If you would like to just share a couple of sentences with John, send them to webmaster@johnschlitt.com and I'll put a page together on his website for him to look at. I'll compile all of the comments and let him know that we are behind this idea, and will support him however we can! He doesn't know what we (as fans) want or need, so this is a great way to do it!

John needs our help here, folks. We've all said how great of a support John is; now it's time to show our support for him! AND the band!

Send your emails, and I'll get them up. I'll call John next week to let him see the page and get his feedback and share it with all of you!
---
April 8, 2002
Petra Live Acoustic Set!
---
On April 3rd, Petra played several songs live and acoustic on Today's Christian Music, which is carried by a number of radio stations across the country... and now MP3 clips of the ENTIRE INTERVIEW are available to download from the "Audio" page at JohnSchlitt.com! You can hear live acoustic versions of the following songs:
Grave Robber
Oasis
Meet With Me
For Annie
Beyond Belief
Send Revival
The interview is OUTSTANDING... all of the current members were playing on the clips except for Louie... Louie was there, but his drums weren't. And as a special treat... for the first time in many years, BOB HARTMAN was playing with Petra! If you've never heard John Schlitt sing the Greg X. Volz-era songs in the list, you're in for quite a treat.

ALSO:
The report is that the entire interview was also videotaped, and will be released on DVD in the near future... stay tuned!
---
April 2, 2002
Lots of New Petra History Available!
---
A Guide to Petra is growing! A HUGE Petra fan named Dave Ferrari has posted album reviews for every Petra album except Revival (that review should be coming very soon), and concert reviews ranging form 1982 to 1999. As a very long-time Petra fan, he has some pretty unique insights into the band and some fairly detailed knowledge of their history. Check out his thoughts here! (And while you're at it, if you would like to post your own album or concert reviews, Click here to become a Guide to Petra!)

The Pethead community on the Internet was shocked a few years ago when CCM Magazine redesigned their Web site and in the process, removed every article about Petra that had been available there! Now there are some new articles (and a few really good older ones), but we mourned the loss of the old articles... until now! Thanks to The Internet Archive's "Wayback Machine", we've been able to rescue those old articles, as well as some from HM Magazine that were lost in a similar redesign. Check out the old and the new right here! (The articles are listed in chronological order... if you read through them that way you will learn a lot about Petra, especially Petra in the 90's...)
---
February 19, 2002
Trent Thomason's Solo Project
---
From former Petra keyboardist Trent Thomason: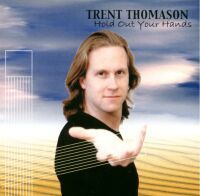 "Just wanted to give the latest 'scoop' on the solo project, Hold Out Your Hands. Firstly, the Official website is up and completely up-dated! We'll be doing some fine tuning here and there but it's a great place to check out the latest news:
"The album was released on Dec. 21, 2001 and has been picking up momentum both in Australia and the States. Liberty Productions have signed on as our booking agent in Europe so we hope to do a string of dates over there later this year! Audio samples, discography and information can also be found on their website:
And now Hold Out Your Hands is available for purchase online for only US $10.00! To order, visit:
Hold Out Your Hands at Gold Records USA
---
February 18, 2002
YOU can be a "Guide to Petra"!
---
IT'S FINALLY READY! Cat and I have been working on a new feature for A Guide to Petra for quite a while now: the "Other Guides" page! Now you can submit a concert review, album review, misheard lyric, or list of your favorite/least favorite Petra albums, and you will be given your very own home page right here at the Guide listing all of your information! Links will also be placed on the appropriate pages (for example, your album reviews will be linked to from my album review pages, and other guides' album review pages too!) so people can find your stuff easily! Take a look at the Other Guides to Petra page (you might click on Cathy Jones' page or BigD's page to see what one with lots of stuff on it looks like), and then submit your own... it's lots of fun!
---
February 8, 2002
Bob Hartman performing one date with Petra!
---
If you have heard any Petra in the past several years, you know that Bob Hartman is not currently performing with the live band, although He is back playing guitar on the new album, Revival. Well, I recently received this email:
Michael:

Petra will be performing at Night of Joy on September 7 at the Walt Disney World Resort. In addition, Bob Hartman will be performing with the band. Night of Joy, a two night concert event (September 6&7) with 14 artists, is in its 20th year. Petra was at the very first event in 1983 so this will be an exciting performance. For information and tickets please call 877-NITEJOY (877-648-3569) or wdw.youth.groups@disney.com.
This will be a historical performance for Petra, folks!
---
February 4, 2002
New singles are out!!
---
The new singles from Revival should be at radio stations by now, so call your local Christian station and see if they'll be playing one of them!
The Noise We Make (rock stations)
Oasis (AC [Adult Contemporary] stations)
How Long ("Praise" stations [used to be called "Inspirational"])
Pick up the phone and call! It doesn't hurt to ask...
---
February 4, 2002
JohnSchlitt.com is online!
---
At long last, JohnSchlitt.com is ready for action! There are TONS of pictures, interviews, and audio clips to check out, and lots of other good stuff. Take a look!
---
January 31, 2002
New concert reviews
---
There are several new reviews up on the concerts page, including several people's comments on the Wichita, Kansas concert on January 26, 2002 (the kickoff concert for the Revival tour)! My wife Cathy, my baby Mikey and I got to meet John at this concert, too: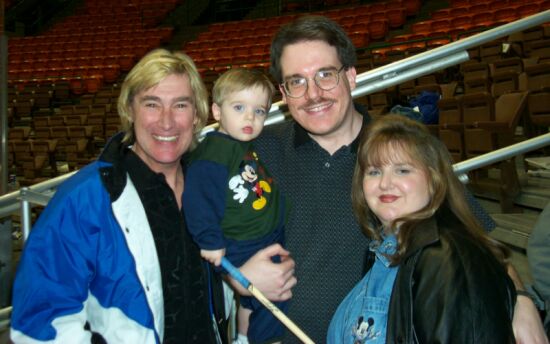 ---
January 29, 2002
Two New Members!
---
Please welcome to the stage... QUINTON GIBSON and GREG BAILEY! Read all about the two newest additions to the Petra lineup in my review of the recent Wichita, Kansas concert!
---
January 16, 2002
John Schlitt News
---
JohnSchlitt.com
JohnSchlitt.com, the OFFICIAL John Schlitt Web site, will launch on John's birthday, Feb. 3 2002! There will be lots of John stuff and lots of Petra stuff too. Head over and sign up for the mailing list to be notified when the site is live!

AND: British Tour Coming Up!
A company called Arrival Productions is in the process of arranging for John to perform solo at the Greenbelt Christian Arts Festival August 23-26 in England and are looking for as many other dates as possible around that time. If you know of any churches or organizations that would be interested in hosting a John Schlitt concert in the UK in August or early September, contact Tanya Waite at Tanya@arrival.cng1.com or Robert Staniford at Rob@arrival.cng1.com for more information!
---
December 20, 2001
Petra radio requests - your help is needed!!
---
(This is a post from one of the official Petra mailing lists...)

As you all know, Petra has been having a difficult time getting airplay for the single, "Send Revival."

Manager Kellie Seboa at Infinity Management has requested your help in getting airplay. This is what she says:

"We would like to encourage you and all of our fans to call the radio stations and request them to play Send Revival. We would like them to call five-ten times a day for the next few weeks if they can."

Yes, this will be a MAJOR push—and everyone is asked to help. Up until now, you've been instructed to be very nice and polite in your requests—and the radio stations have not been listening. NOW it's time to MAKE SOME NOISE!

The following stations are targeted CHR REPORTING stations. CHR = Christian Hit Radio format, which means their playlist consists of songs that are categorized somewhere between pop and rock.

Reporting stations are those that keep track of airplay and requests, and report in to various charting entities. These are key stations in getting the single on the charts, which in turn will generate familiarity, album sales, concert dates, etc. Often, once one station starts playing a song, the others will follow suit.

You are asked to call in to these places—even if you are CLOSE to the particular station and don't get it in very well, or not at all. Just CALL. Ask for the person listed, and ask if they have put the single into rotation yet. If not, ENCOURAGE THEM STRONGLY to do so.

Throw caution to the wind, and CALL!


---
KDUV
Joe Croft
Visalia, CA
559-651-4111

KLFF
Noonie Fugler
San Luis Obispo, CA
805-541-4343

KLRD
Bryan O'Neal
Scappoose, OR
503-543-9700

KNMI
Megan Williams
Farmington, NM
505-327-4357

KOKF
Rachael Decker
Oklahoma City, OK
405-773-2291

KTSL
Dave Masters
Spokane, WA
509-326-9500

KTWY
Greg Allen
Pasco, WA
509-546-5999
KZZQ
Rachel Leigh
Waukee, IA
515-987-9995

WAYK
Heather Erbe
Kalamazoo, MI
616-383-3688

WAYM
Ace McKay
Franklin, TN
615-261-9293

WCFL
Steve Young
Morris, IL
815-942-4400

WHMX
Tim Collins
Bangor, ME
207-947-2751

WJLF
Jeremy Yoder
Gainesville, FL
352-373-9553

WJTL
Phil Smith
Lancaster, PA
717-392-3690
WLGH
Mike Couchman
Williamston, MI
517-381-0573

WNCB
Yehuda
Duluth, MN
218-722-3017

WYLV
Jonathan Unthank
Knoxville, TN
423-521-8910

WYSZ
Jeff Howe
Toledo, OH
419-389-0893

WUFM
Nikki Shumate
Columbus, OH
614-890-9977

KWOF
Mike Kapler
Waterloo, IA
319-236-5700
---
December 3, 2001
Add your own concert review!
---
Now you can add your Petra concert experience to the Concerts page... click over and take a look! We'd like to see people adding as detailed, thoughtful reviews as they can to the list. Have fun!
---
November 27, 2001
Add your own misheard lyric!
---
We have made a new addition to The Misheard Lyrics Page... add your own misheard lyric! So if you always thought "Beyond Belief" was "Beyond Relief", or if you thought Petra recorded a song called "Not Of This Squirrel"... now's your chance to let the world know!
---
November 20, 2001
The New Site is On The Air!
---
Welcome to the BRAND NEW LOOK of A Guide to Petra! You'll find the same great information you always have here, plus some fun new features like Lyrics Search (search Petra's entire catalog by word or phrase), expanded and improved member biographies, a section about "The Official Pethead Baby", a form you can use to email band members, Misheard Lyrics, and, in the near future, a way to submit your own album reviews, concert reviews, and misheard lyrics!
---
November 20, 2001
Coming to your town: REVIVAL!
---
Petra's new album Revival is now available! Buy it in your local Christian bookstore, and for a limited time you will also get a DVD containing a documentary of the band's history, from 1972 to the present!

ALSO: check out this cool article about Petra's past, present and future...
---
November 12, 2001
Petra on INSP
---
A "VH-1 Behind the Music"-style show about Petra will be airing on the INSP cable network on Friday, November 16th at 5:30 p.m. EST (click to convert to your local time). The show is called "Sound of Light with Petra". INSP is carried on many cable networks, as well as the satellite provider Sky Angel, and on satellite G1-17. For more information about INSP, see their Web site at INSP.com.
---
October 10, 2001
Newsletter from John
---
This is the newest newsletter from John... the official Petra site is having some trouble so I'm posting it here...
Hi everyone!
Have we been busy! We finished the latest Petra record, "Revival". It will be released Nov. 20th and we praise God for it! Nov.20th was the earliest it could be released.
After a coordinated decision process between the record company, Petra, and managment the first single was chosen. The single is the title cut, "Send Revival". This song is especially appropriate considering the turbulent and uncertain times our country and the world is experiencing.
As of Friday Sept. 21st the single was delivered to most radio stations in the country. If they aren't playing it, please request it! It's a message, we believe, for our nation and the world.
Please pray for it to be used to its fullest potential! Also please pray for doors to open for Petra's ministry--especially for the fall and next Spring---in whatever manner God leads.
Thank you again for your diligent support, patience, and encouragment in the past, present, and the future! God is faithful!
Sincerely,
John Schlitt
PS. As you have seen on Petra's site my church, Christ Community Church of Franklin Tn., has a new project out entitled "Renewal". It was a double blessing for me. First of all, my son-in-law, Dan Needham, and I co-wrote the song, "Ready to Go", together. Secondly, for this song to be part of a project with so many great artists that are giving their time and talents, as well, is a real honor!
---
October 2, 2001
Revival info at Petra Rocks My World!
---
I've been scooped! Josh Renaud has some great pre-release information about the upcoming Petra Praise III: Revival album at his "Petra Rocks My World" site.
---
September 28, 2001
Dorla says the single is OUT!!!
---
(from a post on The Petra Zone...)
Just got word from Dorla Schlitt that Petra's single was delivered Sept. 21 to most radio stations across the country.... that means it's OUR TURN to jump into action.

I'm trying to post this message all over, so if you see a Petra board that doens't have it - please pass the word along.

Webmasters, perhaps you could post this info on your boards???? And rally some support??? (I'll send an email out tonight)

This is what we need to do:

FIRST AND FOREMOST - PRAY that this record not only gets heard, but that people are blessed by it and that it brings revival to Petra also.

THEN:

1. Each person should call their local radio station, ask for the PROGRAMMING MANAGER and ask if they've received a copy of Petra's new single, "Send Revival."

2. Tell the manager that you've heard the song on the internet, and really LOVE it, because the message is SO timely for this day and age.

3. Ask him that he put it into rotation as soon as possible.

4. Listen to the station to see if it's being played. If so, CALL BACK and thank the programmer for adding it in. IF NOT: call back and beg some more!

Remember, the squeeky wheel gets the grease... and Mountains move when you take a stand!!!
---
September 28, 2001
New address... new server!
---
We're growing here at A Guide to Petra! Because of the traffic generated by the CCM "Site of the Week" article (see below), we have had to move to a new server and a new name: GuideToPetra.com! Update your bookmarks, and look for new features coming soon!
---
September 19, 2001
Guide to Petra is Web Site of the Week!
---
How's this for some good publicity for Petra... CCM Magazine's "On the Beat" selected this site as this week's "Web Site of the Week"!
---
September 5, 2001
Revival song list!
---
This is the (probable) song list of the upcoming Petra Praise III album, Revival:
1. SEND REVIVAL
2. THE NOISE WE MAKE
3. OASIS
4. AMAZING GRACE
5. THE PRODIGAL SONG
6. JESUS, FRIEND OF SINNERS
7. BETTER IS ONE DAY
8. MEET WITH ME
9. HOW LONG
10. WE WANT TO SEE JESUS LIFTED HIGH
11. SATISFY

thanks to judarooski for sharing this information with everyone at The Petra Zone!
---
August 16, 2001
SINGLE FROM THE UPCOMING ALBUM AVAILABLE AT INPOP!
---
inpop records has done it again... they have posted an MP3 of the title track from the upcoming Revival album! Check it out:

   Send Revival

Be sure you send an email to Steve at inpop and let him know if you enjoy the song!

thanks to Doug Sands for sharing this link with everyone at The Petra Zone!
---
August 10, 2001
More news about the new album
---
inpop records has posted a VERY POSITIVE news release about Petra's upcoming Revival album on their Web site. (You can find another copy of the same news release here.)
---
July 16, 2001
Petra has a new record label!
---
After a lot of waiting and speculation on the fans' part, Petra has been signed to inpop records, home of successful artists such as Phil Joel, Tree63, and Superchic[k]. They are scheduled to release a new "Modern Worship" album in November, tenatively titled Revival.
---
February 21, 2001
---
Double Take won the Grammy for Best Rock Gospel Album! Check out the winners list right here!
---
January 29, 2001
Double Take nominated for a Dove award!
---
Double Take has been nominated in the "Rock Album of the Year" category for the 32nd Annual Dove Awards! Check it out right here!

(The 32nd Annual Dove Awards will be presented April 26th, 2001.)
---
January 26, 2001
Interview with John Schlitt available at PetraFanClub.com!
---
Sue Dempster did an interview with John Schlitt on January 9, 2001, that is now available in text and audio formats at http://www.petrafanclub.com/interviews/. It's a very candid, personal interview that discusses Petra's present and future. Check it out!
---
January 12, 2001
Double Take nominated for a Grammy award!
---
Double Take has been nominated in the "Best Rock Gospel Album" category for the 43rd Annual Grammy Awards! Check it out right here!

(The 43rd Annual Grammy Awards will be presented February 21, 2001.)
---
January 8, 2001
Petra has a NEW Fan Club!
---
The new PetraFanClub.com has opened! In stark contrast to the old Petra Fan Club site, this one is controlled by John Schlitt himself, and the day to day operation of the site is handled by a personal friend of his. This won't be an out-of-date merchandise site like the last one was! There are newsletters that (wonder of wonders) actually WORK, lots of pictures of Petra, and a lot more great information! Check it out!
---
March 21, 2000
Pictures of Bryce Bell
---
Here are a couple of old pictures of Bryce Bell, who is handling keys for the spring Petra 2000 tour: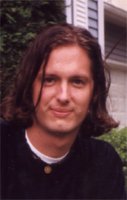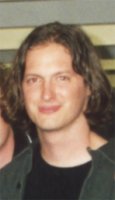 ---
March 1, 2000
---
FINALLY! Double Take was released on Leap Day, February 29th, 2000! Read all about it on the Guide to Petra Double Take Page. It's INCREDIBLE!!!

In other news, Trent Thomason isn't going to be able to start touring with Petra quite yet. For the dates this spring, you can expect to hear temporary keyboardist Bryce Bell covering the lush Double Take orchestrations on keyboards.
---
January 17, 2000
New album (and new baby) on tap!
---
I'M SO EXCITED!!!!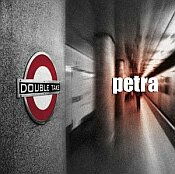 Petra's long-awaited "acoustic greatest hits" album is about to be released! And after listening to the clips from the album, I'm REALLY EXCITED about it! To get the whole experience, you'll need to go through three stages:
(And remember... you can buy it [at a great price] by clicking on the link below!)
IN OTHER PETRA NEWS:
Trent and Becky Thomason have a new baby! Bailey James Thomason arrived on January 15, 2000 at 5:30p.m.! He weighed in at 8lbs. 3oz. Bec and Bailey are doing great and will be home soon!
---
July 24, 1999
WOW... LOTS of news!
---
It has been WAAAAY too long since I've made any updates to this page! And there's LOTS of news to report!
Petra's upcoming album, Double Take, is slated to be released in November. Look for three COMPLETE songs from it in mp3 format on this page at Kevin Brandow's web site.
The new album will be "rock acoustic", as you can hear from the mp3 clips. Most of the songs are current Petra re-recording old Petra songs! There are supposed to be ten "classic" Petra songs and two new ones:

see this email interview with Bob Hartman

According to a recent interview with John Schlitt, Kevin Brandow has left Petra (on VERY good terms)! He will be replaced by keyboard player Trent Thomason (who will join them on July 28th).
---
October 22, 1998
an email from Kevin Brandow
---
Kevin wrote this message on October 19, 1998:

Hi,

This is Kevin Brandow. I am the guitarist/keyboardist for the band Petra. I am writing to you because you have written to me in the past. I am officially a computer geek now!! It has taken me endless hours on the bus to sort through over 1000 letters from the past 2 years but I think I have gotten all of you!! Thanks for taking the time to write.

I am very excited about many things. First of all, please visit this site when you get a chance:


http://www.capital.net/com/bayeco/j.html


This is a page that I have just posted to hopefully attract people to a further understanding in getting to know God in a more personal way. I hope to have many people put links to it on their personal websites and offer God's promises to those who love to surf. If you have one, please feel free to add this link to your page! I will be adding to it in the near future.

2nd- I have spent the spring recording a solo record in my studio. Let me assure you, this is not my attempt to break away from the band, but rather to add to it. Besides, they gave us time off and what else am I going to do but write some more great Christian music!! So go and visit my new site:


http://www.capital.net/com/bayeco/brandow.html


As of now, the internet is the only way to preview and get a copy of "Pogostick."

Happy surfing,

Kevin
---
August 24, 1998
New Jonathan David Brown section
---
I've just opened a new section about former Petra producer Jonathan David Brown. Take a look at it!
---
August 3, 1998
Kevin Brandow Solo Album
---
I don't know exactly how long it's been out, but I learned today that Kevin Brandow has made a solo album when he's not busy with Petra. It's called Pogostick, and you can find out more about it from Kevin's web site!
---
July 8, 1998
Attention, Collectors!
---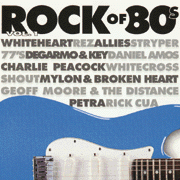 If you've read this page, you know that back in the late 80's, Bob Hartman and John Schlitt contributed their talents to a track on an album by Geoff Moore and the Distance. The album and the song are both called A Place To Stand, and the album has been out of print for a while now. But just recently I discovered that the song is once again available! It's on a compilation called Rock of 80's, Vol. 1 which also contains a lot of other great CCM rock from that decade. You should be able to pick it up at your favorite Christian bookstore, or you can get it by visiting Christian Book Distributors and typing "Rock of 80s" into the search box.

---
May 8, 1998
SOMEBODY'S GONNA PRAISE HIS NAME!
---
This message was posted on The Petra - The Rock & Roll God Gave To You message board on Friday, May 8, 1998:

199.174.186.240 writes:

The Petra World Ministries newsletter HEADING UP includes a page to share testimonies of healings, deliverance, and God doing great things through the ministry of Petra. Each issue will publish some stories of Jesus setting people free! Jesus Christ the same, yesterday, today and forever! Heb.13:8 This is a new publication, different from THE BATTLE PLAN, which was discontinued five years ago. Save your old copies! They are Petra memorabilia collector's items! And there are elements in those old newsletters that still continue to minister to me.

The newsletter feature "Somebody's Gonna Praise His Name" will be glorifying to God, uplifting to Petra, and encouraging to other Petra fans. Please e-mail anything you wish to share and have published in HEADING UP. I can't promise I'll use everything, but I'm sure I'll be rejoicing with you and praising the Lord a lot! E-mail address: ephraimgarcia@compuserve.com

Re: HEADING UP HEADING UP -- "there's a higher place to go" -- is a ministry newsletter/magazine (start smallish and grow!) for information, instruction and inspiration. You know, we've gotta cover all that important stuff, such as, "What does Petra eat for breakfast?" Lots of pictures, tour schedules, insider scoops, prayer requests and answers to prayer, and Biblical encouragement. For those who are ready, willing and able, the Holy Spirit is helping us strategize and do our part in fulfilling our calling to lift up Jesus and bring the Good News to wherever we're sent. We will be agreeing in prayer in Jesus' Name, for specific ministry projects, and believe me, that is powerful! (As you can tell, HEADING UP is not CCM.) Love from your big sister, D'Anne Bonaparte Garcia Petra Fan Club President
Editor, HEADING UP
Petra World Ministries' Publication
---
March 25, 1998
More God Fixation news
---
Here's the track list from the upcoming album:
If I Had To Die For Someone
Hello Again
A Matter Of Time
Falling Up
Over The Horizon
God Fixation
Set For Life
Magnet Of The World
Shadow Of A Doubt
St. Augustine's Pears
The Invitation

If you like, you can put in an advance order with CD Now and receive the album the day it is released by clicking the link below:
This list was obtained from this page (which can be reached from this page) which also contains some audio clips from the album (I haven't listened to them yet) and the lyrics of several of the songs!

More audio clips here.
---
March 16, 1998
Message board message from Pete and Lonnie
---
This message was posted on The Petra - The Rock & Roll God Gave To You message board on Friday, March 13, 1998. I have no way of verifying the source, but also I have no reason to believe that it might not be what it says it is:

hey this is Pete & lonnie from Petra
we were up late surfing the net and ran across your letter's. wow cool
To answer some questions,the New album "GOD FIXATION" will be released April 21 '98
we will be touring this record in the fall of '98
Please be sure to pick a copy and let use know what you think. unless you hate it then go away! HA! HA! not really, you can be honest.SO I guess we will talk to you later,keep wrighting we surf often. BYE!!!!!!!!!!

Pete Orta & Lonnie Chapin
---
February 24, 1998
New Album... title and musical style
---
I have been told a number of times that the name of the new album will be God Fixation. The musical style is supposed to be "modern rock", meaning sort of funky acoustic-oriented stuff. It should be pretty cool!
---
November 21, 1997
New Album Coming Up!
---
According to reliable sources, including the official Petra web site, Petra has at this point finished the instrumental tracks for a new album, which is due out in Spring of next year. No album title yet, to my knowledge.
---
May 15, 1997
Petra Praise II: We Need Jesus is OUT!!!
---
...and so is my review of the album! (FINALLY!) The "my thoughts so far" page has been saved as well. And you can still check out this good stuff about it on the Official Site:



---
Site Map
return home


---

---


---