Site News
RSS Receive this content via RSS - More RSS Feeds
---
January 29, 2012
Happy 15th Anniversary, Guide to Petra!
---
Would you believe it? Wednesday, January 29, 1997 was the day A Guide to Petra first came online! Today is our fifteenth anniversary! Who would have guessed that not only would I make a ton of great friends and learn a lot of fun stuff because of it, but I would also wind up getting to meet a bunch of people who have been in the band over the years. I also met someone who wound up being even more of a life-changer to me than Petra ever was... a few years after the site went online, through a now-defunct message board I had hacked up, I met a lady who is now my wife. Wish the site Happy Birthday! And stay tuned for good things to come!
---
July 1, 2009
Friend Connect
---
I've added a Friend Connect gadget to the right side of the pages on A Guide To Petra... you'll see it right below the meebo "GTP IM" widget. For right now, the Friend Connect gadget will simply allow you to sign in to Friend Connect and "join" the site (your picture will show up in that window). Later on I plan to incorporate the Friend Connect widget into the existing Guide to Petra login so that you can log in using Friend Connect (which is tied to your regular email or IM account... Google, AOL Instant Messenger, Yahoo, Netlog or OpenID networks work) and you don't have to try to remember a separate login for A Guide to Petra. I'll also set up a way to link up your existing Guide to Petra account to Friend Connect later on so you still stay connected to your existing GTP information. Should be a lot of fun!
---
November 6, 2007
II Guys - and Kansas
---
I've set up a page just for fun which is a list of things that Petra and mainstream rock band Kansas have in common. It has a little bit of the flavor of the Kennedy/Lincoln lists that you've probably seen before, but it's fun anyway.

By the way... if you've been to a II Guys from Petra concert and you'd like to write a review for this site, feel free to do so!
---
November 30, 2006
Chat room fixed
---
In the wake of adding my IM box to all of the pages of the Guide, I have now repaired the chat room. If you have your own Web site, you can even add the same chat to your pages and then your visitors and mine can chat with each other! Pretty cool! Check it out now!
---
November 16, 2006
Amazon.com ad box
---
If you look at the right-hand column on the Guide, you'll notice a new box from Amazon.com. This box is supposed to contain a little ad for something on Amazon that visitors to the site might be interested in. Problem is that it needs a little help to figure out what to put up there! If you've shopped on Amazon before it may show you items related to ones you've viewed on Amazon; otherwise it is supposed to show items of interest to Petra fans. If you see something you are interested in over there, please click on it and help me train the filter. :)
---
October 23, 2006
God Gave Rock
---
A question I received in email led to me checking out some of the videos of various versions of God Gave Rock & Roll To You that have appeared through the years. take a look at three of them and see what you think!
---
September 8, 2006
Meebo Me!
---
I have added a meebo me widget to the side of each page on the Guide. That means that whenever I am on meebo (quite often during the U.S. work day) you can contact me right from most any page on this site! I may not always have time to shoot the breeze, but sometimes I will, and if you have a question, bug report, or whatever about the site, I'm easier to reach than ever!
---
November 23, 2005
Petra Farewell Reviews
---
The Guide to Petra review of Petra Farewell is up now, and other reviews are starting to come in. You can read my review here, and on that same page you can find links to reviews on other sites as well.
---
October 5, 2005
Did you go to the concert in Franklin?
---
If you did... post your concert review at the Guide to Petra October 4 Concert center!

http://www.guidetopetra.com/oct4/
---
October 4, 2005
Michael & Cathy on the radio!
---
Before the Petra taping in Franklin, Michael and Cathy, your Guide to Petra Webmasters, were interviewed on Way-FM's Total Axxess show!
---
September 26, 2005
Song Downloads Available
---
Our main CD partner, ChristianBook.com, recently added song downloads to their catalog, so we've added them here at A Guide to Petra! Go to any album page and click the "Buy WMA" links to go to the individual songs' download pages. I believe all of the downloads are 99 cents apiece, and unfortunately WMA is pretty Windows-specific... but if you're using Windows, you can create your own Petra's Greatest Hits CD for less than the price of a regular compilation! (You can probably do a better job at it than Star Song, at least!)

A few caveats... a couple of the CDs are not available in their entirety; we have linked to songs from those CDs that also appear on the compilation albums. And we haven't yet linked to the downloads from the Captured in Time & Space CD because of the complexity of the download links (each song is a separate download, including each part of the medleys; the talking segments between the songs are separate downloads; it's quite a mess). We'll get that figured out soon!
---
August 22, 2005
New Scripture site on line
---
Have you noticed the banner for "ScriptureMenu.com" at the bottom of every page lately? How about the tiny text links directly under the Album Spinner in the column on the right? ScriptureMenu.com is the newest site we've added to our little family... the other one being PetraTulsa.org. Take a look at both of them and see what you think!
---
June 29, 2005
Solo album reviews
---
If you haven't noticed, along with the minor changes in the look of the front page of The Guide to Petra, over the next months we're going to be adding reivews of some of the solo projects created by former members of Petra, and some of the band projects they have participated in. Our first solo CD review is Trent Thomason's Hold Out Your Hands; Trent was the keyboard player for Petra for a while, and even appeared on the Double Take CD. Take a look at the review now, and check back soon for a review of his second solo effort, called simply Ten!
---
May 24, 2005
Tributes page and Wiki
---
Don't forget: you can add your own memories about Petra at the Tributes page... and also add to the collective knowledge base about Petra at the Petra Wiki!
---
May 13, 2005
The Petra Wiki
---
What is a "Wiki?" It's a Web site where all of the pages are editable by everyone. Sound crazy? Yep! But it's fun. I've set up a wiki about Petra at wiki.GuideToPetra.com, and it needs a LOT of work to be truly anything like complete. So get to work! :)
---
February 3, 2005
Prices on The List!
---
Thanks to the innovation of two of our online partners, Amazon.com and ChristianBook.com, we are now able to actually display their prices on many of the pages of our site which link to CDs for sale, most notably The List. Get yourself a bargain!
---
December 14, 2004
MP3 Clips List
---
For some time now we've had MP3 clips of all of the songs on Petra's albums available for your listening enjoyment. Now we've added a convenient list of them!
---
December 8, 2004
New pictures!
---
We have some new pictures posted... there are some serious vintage snapshots of Petra on this page (submitted by former Petra keyboardist John Slick!), and at the other end of the spectrum, a fresh-of-the-presses picture of Petra's two newest members in India in late November of this year. Enjoy!
---
December 7, 2004
Petra in the News
---
For a while now we've had an RSS Feed containing links to news items of interest to Petra fans. If you haven't jumped on the bandwagon yet, though, we've added links to the most recent items on the Guide to Petra home page, and we've also added a page listing all of them. Currently the last few items are about Petra's shows in India this month... great stuff!
---
November 22, 2004
Articles (like the one below this one!)
---
Have you seen the "Articles" page? It's got a bunch of articles about Petra from waaay back, all the way to the present, all linked from one convenient page. Read one of them on the Guide to Petra main page! (If you're reading this on the main page, just scroll down a bit...)
---
June 23, 2004
GuideToPetra.com email problem
---
There has been a problem with GuideToPetra.com email for the past few weeks, so if you have emailed me or Cat and not heard back you might try again. I think any messages sent from the email form got through, but if you didn't hear back you might try again.
---
May 31, 2004
Captured in Time & Space Petition Update
---
As over 500 of you know, for the past few months we have been running an online petition to see Captured in Time & Space released on DVD. Well... I've talked to the video's director, the album's producer, the archive librarian at EMI (which now owns Star Song), Greg X. Volz and Bob Hartman, and nobody knows where the master films are! This is bad news for us... if the only surviving copies of the performance are VHS copies, then we don't really have source material of sufficient quality to produce a decent DVD. If you have any ideas of who we could contact next, let us know!
---
May 24, 2004
New concert pictures posted!
---
Thanks to a great Brazilian Pethead, we now have pictures from the Brasilia, Brazil concert in April!
---
May 17, 2004
Pictures of Petra booth
---
Check it out... I was at a trade fair recently and took some pictures of a booth about Petra! (hehe... No, it's NOT "our" Petra, but it's fun anyway!)
---
February 23, 2004
Introducing: RSS Feeds!
---
We are rolling out a new feature at A Guide to Petra... RSS Feeds! From now on, you can access some of the information on this site (for example, this news article!) via an "RSS Reader" or "RSS Aggregator." Using this software, you can check headlines, new concert reviews, whatever... without having to visit the site until something of interest is available. We have a number of feeds already, and that number is growing... click here for a complete list!
---
November 14, 2003
Some great updates to the Marketplace site!
---
I've updated the links on the Petra Marketplace page, deleted some old broken sites and in the process, added a few nice features. Now that page includes search boxes for several online music/book retailers; bookmark that page and use it to do price comparisons between several sites for whatever CD, book or other item you are shopping for!

Petra Marketplace page

And don't forget The List... a list of all of the Petra items I could find available online. Even some hard-to-find gems!
---
October 22, 2003
Captured in Time & Space Petition Letter Sent!
---
On Tuesday, October 21 I sent a letter to Mark Dunn at EMI Group. Click here to read all about it!
---
September 25, 2003
Discussion Board About The Guide
---
Did you know there is a discussion area about this site? Take a look at it here, and post your thoughts! (There's also an area for discussion about JohnWSchlitt.com, an area about other Petra Web sites, and areas about Petra's concerts and recordings.)
---
August 21, 2003
You Don't Have To Click The Links Any More!
---
If you are a Guide to Petra, you have a new option as far as adding material... visit http://www.guidetopetra.com/myguide/ , put in your password, and add as many new things as you want with no mail response needed! If you haven't received your password in email, please send me an email and we'll figure out what happened.

Don't forget to add Jekyll & Hyde to your favorite CDs list!
---
July 23, 2003
Contest Results and New Stuff
---
There's some pretty cool stuff is going on here at A Guide to Petra! The results to the Power of Praise contest are in; see them now on the contest page!

I'm working on some pages for people who have set up their own Guide areas, but in addition to that I've added some information from Amazon.com to the mix. You can see it by starting at the review page for Beyond Belief.

- Directly under the picture you will see the words "see larger picture". If you click on them, you will see... well, a larger picture of the album cover!

- If you haven't noticed the audio clips I've added for most of the albums, you can listen to them too. Links are in the white box next to the song titles. You can also play all the clips for a particular album at once.
- Down below the "Other guides" section, you will see the words "Amazon.com reviews". If you click there, you will see a page that... well, it has some of the Amazon.com reviews for the album on it!


- If you scroll down even further, under the ChristianBook.com graphic you will see the words "More ways to buy..." in italics. That link will take you to a page with some pretty interesting information on it... links to all of the places I have linked up that sell the album (3 in this case), a "People who like this CD also like these Petra CDs" section that is based on the "favorite/least favorite" voting results. The list you see is the top five CDs that also appear on favorites lists that include the album. In other words, the majority of people who consider this album a favorite also consider these albums favorites. Beneath that you will see the "similar albums" list from Amazon.com; between those two lists people should have a lot of options as to what other CDs they might like if they like the one they're looking at.
Don't forget to stay tuned for those contest winners!
---
June 23, 2003
Power of Praise Giveaway Contest
---
Click here to enter our contest to win one of five copies of the new Word compilation, The Power of Praise!
---
June 18, 2003
Pictures of the Jun 14 2003 concert
---
You can see some pictures of last Saturday's concert right here (there is also a link to the review of the concert posted by another attendee!)
---
June 6, 2003
Add your comments on the new song!
---
How many times have you listened to "Jekyll and Hyde" so far? Lots? Tell the world what you think! Now you can add your own comments on any Petra song to your own Guide to Petra page!

Click here to add your comments about the new rock single, "Jekyll and Hyde"
Click here to add your comments about any Petra song
Click here to read other people's comments on "Jekyll and Hyde"

Haven't heard the song yet? Click here to listen to it!
---
May 26, 2003
New feature of The List
---
We've added an interesting new feature to The List... a CD recommender! It works this way... go to The List (a list of every Petra item I've been able to find available for sale on the Net) and click on an album cover (only the regular Petra albums, not the collections or solo projects). The page you will see will have a list of the songs, the album title, a list of places you can buy the CD, and then it may say "People who like this CD also like these Petra CDs". If it says that, the list of CDs after those words are CDs that were mentioned along with the one you're looking at as other Petra fans' favorites. How can YOUR favorites be included in the ranking? Easy... click here to add them! (Future plans include ranking the top 5 favorite Petra albums and the top 5 most-disliked Petra albums... stay tuned!)
---
April 29, 2003
Captured in Time & Space DVD petition - PetraTulsa.org discussion board
---
We've added a brand new discussion board at PetraTulsa.org... and there's a section about A Guide To Petra there, too! Head on over, register, and tell us what you think about the site!

ALSO: if you would like to see the Captured in Time & Space video re-released on DVD, click here to sign the petition!
---
January 16, 2003
New server, new site!
---
We have moved A Guide To Petra to a new server... and that means we have been able to open up a BRAND NEW site all about Petra in Tulsa, Oklahoma! Check it out: PetraTulsa.org
---
October 28, 2002
Still Means War Track List
---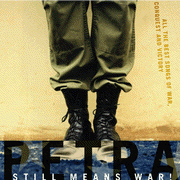 Your Guide to Petra has come through for you again, as the first Petra Fan site with the track list for the new Word compilation, Still Means War! The collection of some of Petra's greatest Spiritual warfare songs also includes a brief but interesting history of the band from its beginnings up to the time of Double Take. One surprise is that it includes the now-rare recording of "Onward Christian Soldiers" from a CCM Hymns CD that came out in 1989. Visit The List to order it from your choice of several online merchants; the project was released on November 19, 2002.
---
April 2, 2002
Lots of New Petra History Available!
---
A Guide to Petra is growing! A HUGE Petra fan named Dave Ferrari has posted album reviews for every Petra album except Revival (that review should be coming very soon), and concert reviews ranging form 1982 to 1999. As a very long-time Petra fan, he has some pretty unique insights into the band and some fairly detailed knowledge of their history. Check out his thoughts here! (And while you're at it, if you would like to post your own album or concert reviews, Click here to become a Guide to Petra!)

The Pethead community on the Internet was shocked a few years ago when CCM Magazine redesigned their Web site and in the process, removed every article about Petra that had been available there! Now there are some new articles (and a few really good older ones), but we mourned the loss of the old articles... until now! Thanks to The Internet Archive's "Wayback Machine", we've been able to rescue those old articles, as well as some from HM Magazine that were lost in a similar redesign. Check out the old and the new right here! (The articles are listed in chronological order... if you read through them that way you will learn a lot about Petra, especially Petra in the 90's...)
---
February 18, 2002
YOU can be a "Guide to Petra"!
---
IT'S FINALLY READY! Cat and I have been working on a new feature for A Guide to Petra for quite a while now: the "Other Guides" page! Now you can submit a concert review, album review, misheard lyric, or list of your favorite/least favorite Petra albums, and you will be given your very own home page right here at the Guide listing all of your information! Links will also be placed on the appropriate pages (for example, your album reviews will be linked to from my album review pages, and other guides' album review pages too!) so people can find your stuff easily! Take a look at the Other Guides to Petra page (you might click on Cathy Jones' page or BigD's page to see what one with lots of stuff on it looks like), and then submit your own... it's lots of fun!
---
January 31, 2002
New concert reviews
---
There are several new reviews up on the concerts page, including several people's comments on the Wichita, Kansas concert on January 26, 2002 (the kickoff concert for the Revival tour)! My wife Cathy, my baby Mikey and I got to meet John at this concert, too: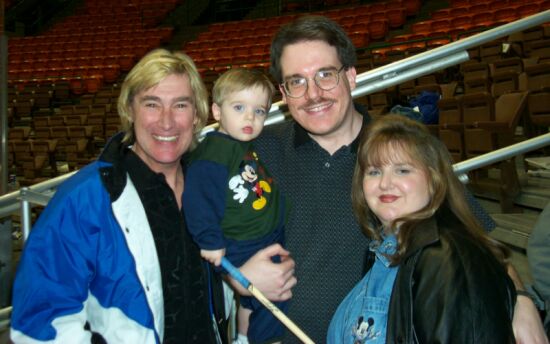 ---
December 3, 2001
Add your own concert review!
---
Now you can add your Petra concert experience to the Concerts page... click over and take a look! We'd like to see people adding as detailed, thoughtful reviews as they can to the list. Have fun!
---
November 27, 2001
Add your own misheard lyric!
---
We have made a new addition to The Misheard Lyrics Page... add your own misheard lyric! So if you always thought "Beyond Belief" was "Beyond Relief", or if you thought Petra recorded a song called "Not Of This Squirrel"... now's your chance to let the world know!
---
November 20, 2001
The New Site is On The Air!
---
Welcome to the BRAND NEW LOOK of A Guide to Petra! You'll find the same great information you always have here, plus some fun new features like Lyrics Search (search Petra's entire catalog by word or phrase), expanded and improved member biographies, a section about "The Official Pethead Baby", a form you can use to email band members, Misheard Lyrics, and, in the near future, a way to submit your own album reviews, concert reviews, and misheard lyrics!
---
September 28, 2001
New address... new server!
---
We're growing here at A Guide to Petra! Because of the traffic generated by the CCM "Site of the Week" article (see below), we have had to move to a new server and a new name: GuideToPetra.com! Update your bookmarks, and look for new features coming soon!
---
September 19, 2001
Guide to Petra is Web Site of the Week!
---
How's this for some good publicity for Petra... CCM Magazine's "On the Beat" selected this site as this week's "Web Site of the Week"!
---
August 24, 1998
New Jonathan David Brown section
---
I've just opened a new section about former Petra producer Jonathan David Brown. Take a look at it!
---
Site Map
return home


---

---


---