Petra: The History
(This synopsis of Petra's background was taken from an old newspaper from 1985 or so called "Echoes"... it's the most complete account of the band's early years that I've seen so far. Please understand that when it says "today" it means 1985 or so.)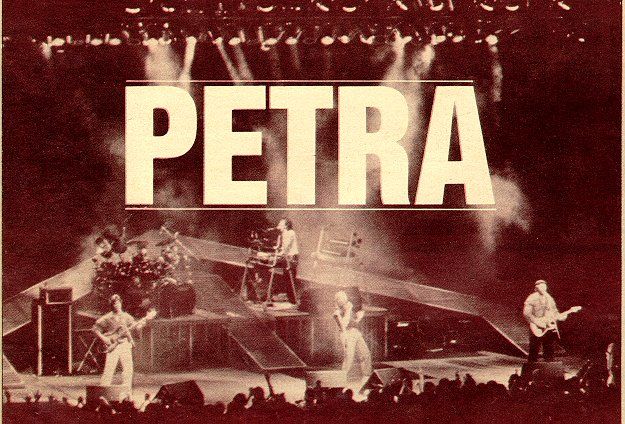 The beginning: Ft. Wayne, Indiana, 1972. Four men with desire to share the gospel. They share a call that changed their lives. They were called to use rock music to beat the system. They wanted to share Christ with students in terms they would understand. the result: PETRA.
"Petra" means bedrock. And it is the bedrock of America from which they came and it is on the bedrock of Jesus Christ that PETRA was built and on which it stands today.
For the first two years of their existence, Petra played mainly in the Midwest, appearing at coffee houses, high school assemblies, church basements, colleges, and even in city parks. After each concert the band shared the Gospel with those who came to hear the music.
In 1973, Petra signed a recording contract with Myrrh. In 1974, the debut album appeared, recorded for a mere $900 in two weeks. Self titled, Petra was not a pacesetting album in terms of sales, although it was on the cutting edge musically for what was called "Jesus Music," featuring hot double guitar leads and powder-keg drumming. In spite of slow sales, the band was generating a reputation for rousing live performances.
It was on Petra's second album, Come And Join Us, that Bob Hartman invited Greg X. Volz to be a guest vocalist. Doing leads on two songs and backups on the others witnessed the beginning of a long-term relationship between Hartman and Volz.
When it was released, Come And Join Us was also a slow seller so they were released from their contract with Myrrh.
The band pressed on. Live performances were the only source of income and ministry, and they continued honing their craft all over the country. During this time such classics as "God Gave Rock and Roll To You", "Disciple", and "Killing My Old Man" were performed, only to be committed properly to vinyl years later. "Backsliding Blues" always brought the house down, a 45 minute version complete with 10 minute guitar, bass and drum solos. Most churches and Christian radio stations found Petra's music much too intense musically and lyrically, hence acceptance came only from the more "radical" members of the Christian community.
While touring without a record contract, a young visionary record label, StarSong Records, approached the band with another offer. Convinced that StarSong understood them, Petra signed with them and produced their third album, Washes Whiter Than, which yielded the band's first radio hit, "Why Should The Father Bother."
Once again in 1980, StarSong ventured out for another Petra album. This time, Jonathan David Brown was brought in as producer and began to mold the band's sound as we know it today.
Never Say Die was the breakthrough album Petra had been praying for. The album contained the radio hits "The Coloring Song" and "For Annie" as well as concert favorites "Chameleon", "Angel of Light", "Without Him We Can Do Nothing", and "Praise Ye The Lord". Petra had the opportunity to tour with Servant which helped them get out on the road again. Since the release of Never Say Die, the road has been Petra's home. They have been tenacious with the vision, feeling that "second wind" many times.
Petra performed 161 concerts in 1982. They took five weeks off in June of 1982 to record More Power To Ya which yielded the radio hits "More Power To Ya", "Road to Zion", and "Stand Up." 152 concerts the next year, then six weeks off in August of 1983 to record Not Of This World.
In November of 1984, Petra put the finishing touches on their newest album, Beat The System. Petra has sold over one million records in their career. The amazing thing is that 900,000 of them have been sold since their breakthrough in 1981.
---