---
Jonathan David Brown: Personal Information
---
Birthdate:
November 20, 1955, 7:55 a.m., 7 lbs, 8 oz.
Birthplace:
Oklahoma City, Oklahoma
Marriage:
I was married first to high school sweetheart Tammy Gail Brown, January 1, 1975 - Oklahoma City. She and I divorced in 1985 while we were living in L.A. - sounds like a good environment for that to happen, no? Tammy currently works as secretary for Head of A&R Sony Music Nashville. We're friends now, although from a distance.

I met Rachel in the PETRA office in Nashville; moved there in January of 1986.

Jonathan with family, l to r: Jesse, Sharon, Rachel, Jonathan and Susanna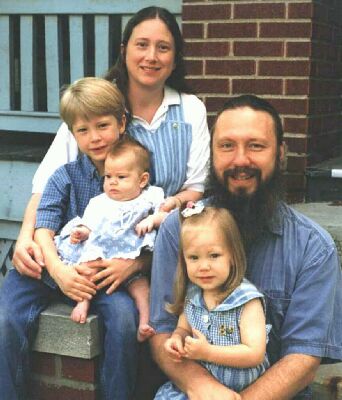 I decided Rachel and I should be just 'friends' at first - you know - 'brother and sister in the Lord.' Obviously not what destiny had in store. We married May 2, 1987. She is my partner for life, Yahweh willing - and I think He is.
Kids:
I've got 4 natural children. From the first marriage I have a son - Nathan (Jacob Nathaniel). Nathan was born July 22, 1977 in Orange, California while I was working full-time for Maranatha! Music. He's now 20 living in Nashville - a skateboard champion - does the most incredible 3-Dimensional Abstract painting with spray-paint! Critics and his instructors and peers have called him "exceptional," "brilliant." I can't paint or draw anything.

Anyway, Jesse Logan David Blocker Brown was me and Rachel's firstborn. He was born on our farm in Tennessee December 16, 1991. He's 6 yrs old now, and his drawings are nearly exactly the same hand as Nathan's early ones were . . He's learning piano, writes songs (you know - makes 'em up) and makes up stories about fictional characters like "Jack Cactus" ("He's bigger than the earth").

Susanna Mary Gayle, whom I delivered at home, born in Springfield, Missouri April 18, 1996. She's my "spittin' image." At 22 months, she communicates in broken sentence form and "attacks" the piano.

Then we also have our newest member Sharon Bonnie Fiona, born March 25, 1998 at home here in Springfield.
Music background and influences:
My father started out to be a concert pianist and transformed into an entertainer/music minister/Gospel Quartet pianist/teacher. I grew up with him communicating music to me. That along with crawling around on the floor of my grandfather Oval Brown's music store in Oklahoma City while he tuned pianos probably is what ear trained me, flexing my perfect pitch.

My grandfather taught me guitar from the time I was 8 yrs old. I studied drums and percussion for 4 years from a man named Johnny Johnson, who taught at grandfather's store. He also taught Billy Maxwell (Keith Green/Andrae Crouch and the Disciples). I also had another percussion instructor for two years who had played in the Philadelphia Philharmonic for several years. He gave me the classic approach, along with some jazz. Grandfather also taught me to tune pianos, which I've turned to recently for a part-time livelihood.

Perhaps the strongest influences besides my father and grandfather were (1) my high school choir and music theory instructor in OKC - John Platt. He took our choir to Graz Austria in 1972 to win the International Choir Festival, in competition with professional and college choirs. The man taught me how to focus and project my voice, and implanted discipline (which I sorely needed more of). (2) my junior high and high school band instructor David Carl Price. Although I primarily played brass in the band, he liked the way I played drums and asked me to play them in a quintet with him on sax, clarinet, and oboe where we did material such as "Take Five" by Dave Brubeck, etc. This gave me tremendous confidence to take on unfamiliar music without blinking an eye.

Of course, from the time I was 8 till 15 I performed with my father in numerous "gigs," everything from company Christmas parties, to Dale Evans Rogers home for the mentally retarded, to Jaycee's conventions, where my father could make 10,000 drunk JCs pay close attention to us. I played drums and banjo while he jumped from piano to accordion to toy piano to organ. We had a regular gig at Shakey's Pizza Parlor in OKC (5 nights a week). When I was in school I only played weekends. I also had 3 different bands wherein I played drums (the H.I.S. men), guitar (the Perfect Combination) guitar and keyboards (Blues Road Junction). We did the usual "sock-hops" etc. Altogether, these events formed my eventual musical direction as a record producer.

I might also add that, at age 17 I was ordained by the Holy Spirit as a minister. The story behind this is too much to give here, but I'll say that my non-denominational preacher called me and confirmed that I should be ordained. Whereafter, I embarked upon numerous ministry opportunities with a pioneer "Jesus Music" group called SETH. We toured the country for two years playing everything from street ministry/coffee houses to "Saturday Night" church concerts for evangelism, etc. We sang in Israel in 1973 and 1974 on two "Holy Land Tours" with the Blackwood Brothers, Thrasher Bros. and Jerry, Florida Boys, Downings, and others. Needless to say we stuck out like a sore thumb playing stuff that sounded like a cross between the Carpenters, Crosby Stills and Nash, and James Taylor.

When I moved to L.A., I gave up the ministry to minister to ministers. This inadvertently made me a modern day Jonah, avoiding my original calling in lieu of a more "comfortable" career. More on the belly of the beast part later.
Education:
Graduated in 1974 from Northwest Classen High School in Oklahoma City. I was offered a full paid four-year scholarship to ORU which I turned down in lieu of a job at Mama Jo's Recording Studio in North Hollywood. Tammy and I moved there as soon as we were married where I worked for $25.00 per day (for a whole year!) at the studio. I met Alan Parsons there doing the first two Ambrosia LPs (he engineered and produced only the mix on the first and did the entire process on the second). Consequently, I sat at his feet on those recordings, and later some of the recording of Al Stewart's Year of the Cat LP and Alan's first "Project" recording entitled Tales of Mystery and Imagination - Edgar Alan Poe and learned much about "ear candy" from that man. I also had the privilege of watching Bill Schnee at work on several recordings and "second-engineered" for him. He, of course, had an unbelievable career during which he worked with everyone from 3-Dog Night to Melissa Manchester, Diana Ross, Michael Jackson (Off The Wall), to zillions of others. Bill taught me how to trust my ears, use tube-microphones and how to collect and sell them, and when to know that I was struggling too hard (his mixes would go down-hill after 2 hours - the quick and the dead).

Although I didn't follow through with music university stuff, I have no regrets about education. Would you?
Current home:
Rachel and I live with our children where she grew up in Springfield, Missouri in my father-in-law's (Bill Britton's) home. Bill died before Rachel and I were married. My mother-in-law continues to send his ministry materials - booklets and tracts - to the many people who still request them. Rachel helps with this doing the computer accounting for all orders, based on free-will offerings. I have a 24 track ADAT studio in my father-in-law's old print shop where I recently completed my new recording Sinners in the Hands of an Angry God (after the sermon in 1741 by Jonathan Edwards). I also do a few Christian Music "Industry" related recordings each year, and many custom recordings.
---
Jonathan can be reached by email at jonnbrown@hotmail.com.
---
Return to the main Guide to Petra page